233 Fillmore Ave. Ste 16
Tonawanda, NY 14150
Phone (716) 206-0022
Fax (716) 206-0023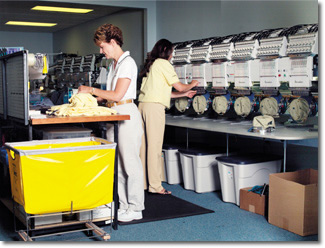 Hi and thanks for visiting! We're glad you stopped by and more that happy to tell you about our company.
HitMan was formed by a group of people that have been in the embroidery industry for more than 20 years each. With HitMan, you are getting a combination of over 100 years of experience.
Together we have seen embroidery grow from simple designs done in very small quantity, to intricate designs and very large quantities. We have also seen the quality of embroidery increase as the industry has matured.
Over the years, each of us at HitMan has been listening to the changing and growing needs of our customers, and this is what has brought us together. We formed HitMan to be a unique, service-oriented company. Our goal is to meet or exceed your needs and give you the freedom to invest your time servicing your company's needs.
Our machinery is state of the art, and maintained and upgraded on a regular basis. Our staff is experienced, dependable and friendly.
We offer many embroidery services and are always willing to try a fresh approach! Feel free to take a tour of our site and see what HitMan has to offer your company.
HitMan Embroidery: By contract only.™